Directions Written By A Chinese Speaker And A Lot Of Birds
Directions written by a Chinese speaker on the things we buy are the norm now, because the Chinese make most of our stuff, from spatulas to pacemakers, I'd wager.
I guess it's fair they write the directions for the stuff they sell us and write them according to their own translations. I mean, why would someone in Cleveland write the directions on my dog's nail clippers?
My title might lead you to believe that a bunch of birds helped write the directions on something I bought, and admittedly, Chinese writing does look like a drunk bird dipped its claws in ink and tap danced its way across a piece of paper.
But that's just the gringo in me talking.
The birds are in the title because they were gathered ominously on the telephone wires out back a few days ago. I went out for my sunbath during a very cold winter back East (I love to tell my east coast friends that I'm sunbathing while they're shoveling snow), and there were at least fifty birds out there, giving me the beady eye.

I've seen all of Hitchcock's movies. I know what's up. I told the MOTH about this suspicious state of affairs, and he told me the birds were just trying to get warm on the wires.
Ha. Who is he kidding? They will take your eyes out as soon as look at you. I think they'd just flown in from China, and boy, were their wings tired! Haha!
I'd recently bought a pair of dog nail clippers and will attempt to clip Sugar's claws one of these days. I've had them for a week now. I was not surprised the clippers were made in China. If we want to make this country great again, we'll have to start making them here. Being a patriot, I'll make them right here in my house. I could whip out twenty or so a day using my kitchen counter and my dog, Sugar, to watch me work, and then take them to the post office.
The clippers came in a little box. No manual inside, which is fine. How much could there be to say about nail clippers? Directions on the box are fine. It's what the box says that's a curiosity. If I wasn't a native English speaker, I might be tempted to literally do what the box suggests. I think they might be telling me to make pasta with them.
The meaning is not apparent, no matter how many times you read it.
Let me tell you what the box says. Sit down and get comfy.
In a little box drawn on the back side of the real box, there's a warning with that triangle symbol and an exclamation mark beside it. The warning says:
"Check and cut nails every two weeks."
(So far, so good.)
"Don't cut your pet hurted when its feet struggle."
(I would never do this when its feet struggle, and by the way, I haven't said 'hurted' since the 90's and my son was little. He also liked the number 'eleventeen' and the Table of Continents in books.)
And finally:

"Please note the difference between front paws and back paws." 
(Italics mine.)
Why are the italics mine? Because the Chinese took the time to tell me to figure out the difference between the front of my dog and the back of her. I mean, that's kindly, to say the least. To say the most, how stupid do they imagine we are?
In the first place, when I feel something cold and/or wet licking my arm and hand, I'm assuming it's the front of my dog doing it. If it's not, she's got some 'splaining to do. When I go out back to pick up poop, I do hope it isn't coming from her front part.
And when its feet struggle, I get a giggle. I'm always tickling its feet. It's a riot. It doesn't think it's funny. Tch.
Now for the warnings written below that warning:
1. Please stay away from fire, high temperature place.
( I try.)
2. Please put in pet. Young children cannot take place.
(Boy, ain't that the truth. I have never had to buy Sugar size 17 shoes or a deck of Pokemon cards. On the other hand, I have never put nail clippers up my child's butt, nor have I ever put my child up my dog's butt. This is a little insulting, don't you think?)
3. After use, please send the product on the hair clean, if the water after washing should be kept dry.
(Huh?)
4. Please consider when using, avoid improper use and pet injury.
(At last. One I understand.)
The directions on how to use the clippers are understandable. They tell me not to cut 'vessels,' but if I should do so, to please to use hemostatic drugs to stop the bleeding. Yikes.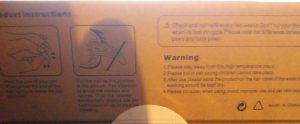 I'm going to send some of MY dog nail clippers to Chinese people, at double the price due to lower volume and higher overhead costs. I'm going to include Chinese directions written by someone who doesn't even eat Chinese food, which over there, they just call food.
Quid pro quo. That's Latin for something.
Please follow and like us: