Pandemic Normal Includes Building A Fence: Manly Pursuits
(Pandemic normal Includes Building a Fence was written by my friend, David Williams, a very funny married man–as you will see–and a purveyor of "manly pursuits".)
The pandemic is fence construction time.  Nothing against the neighbors per se, but the wife said, "I want a fence here."  Because that's how she talks.
Yes, manly pursuits have taken a left turn somewhere during the year, because if I'm not sitting on my butt spending unemployment money to order pizza and spare ribs, I'm "out there", in the backyard, proving to my laughing wife I can "do things".  That'll show her.
Fence building is straightforward.  Borrow a buddy's truck, run to Home Depot and get $600 worth of lumber, come back and work like a dog for two days.  Lots of sawing and hammering, right?
That's how its done.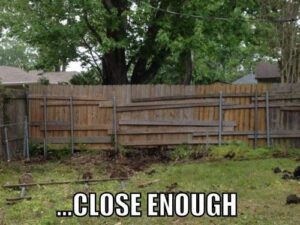 Oh no it's not.  The nuts and bolts on this thing would drive Tim, the Tool Man mad. Dozens of clamps, two sizes.  Hundreds of screws, 3 sizes.  Post anchors.  As much metal hardware as wood.
Here's the thing: there must be 10 million miles of fences in the US, but in a 5 acre sized Home Depot of a hardware store, they have none of it.  Zip.  I can drive three minutes in any direction and find a fence being built, but none of the hardware is at the hardware store.  I wonder if they even sell hammers anymore.
Here's what you need:
– Item 1:  Post anchors
– Item 2:  2 & 3/8″ post tie clamps
– Item 3:  1.5″ post end clamps
– Item 4:  Boxes of 1/4 x 2 inch wood screws
– Item 5:  Boxes of 1/4 x 1 inch wood screws
Here's what you don't do: Go to Home Depot and buy the stuff.  You'll come home empty handed.  She'll start laughing again.
And here's what you do:  Go to the Home Depot website, use a magnifying glass to tell the difference between 2 5/8 post end clamps and 2 3/8 post tie clamps (the difference is bigger than it looks), click Purchase.  Great.  You're picturing your fence already.  And somebody is going to send it to you in boxes.  Who's laughing now?  Where's that pizza, anyway?
You get an email in 15 seconds. Items 1, 4 and 5, expected delivery date, 3 days.  Item 3, delivered 3 days after that.  Item 2, delivered in 2 weeks.  Excellent.  See, Items 2 and 4 have to arrive before Item 1 can be installed, which involves digging and concrete, so 2 weeks sounds about right.  With any luck they're on one of those shipping containers in the LA harbor.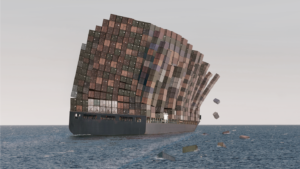 Danged if Item 3 doesn't arrive the next day.  I installed those, took about an hour.  Item 1 then arrived, but is the wrong item.  The call to customer support was the usual fun.  New delivery date, 5 days.
A day later item 2 arrived without Items 4 and 5.  I installed it, took another hour.  New tracking data was acquired for Items 4 and 5, new delivery date, 4 days.
Item 1 arrived early again, was the correct item, but cannot be installed before Item 4 arrives.  Lumber cannot be purchased and erected before Item 1 is installed.  So, we are currently waiting on Item 4.
How is the fence building going?  I check the porch 4 times a day and spend an hour installing anything useful that happens to show up.  If this keeps up, I'll eventually have the thing done without getting out of my pajamas.
Progress is slow but sanguine.  Maybe a calzone today.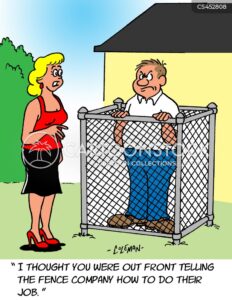 Please follow and like us: