When Love Comes To Town: A Christmas Story
When Love Come to Town is a story written by David Williams. Enjoy! (And stay tuned for my annual year end round up. It isn't easy to find funny stuff about 2020, but I'll do it, or my name isn't Thelma Thudrucker.)
"What do we do now?" He would know, always strong and decisive.
"I don't know."
She looked at her newborn, not yet a day old. "Maybe you don't, but I can tell you this … if any more of your family come around with their twenty questions we're walking out of here, I don't care where. The way they look at me …".
"Okay so, what, you want to go back home?"
"Joe, stop it. Why do you think I walked for a week, all the way out here? My hateful family is back there, remember? And now I get to deal with yours. We're huddled up here in a barn, my son's sleeping in a stupid feed trough, and you decide you're out of ideas."
He had no answer for that, so they were quiet for a while, too tired to argue. He knew she didn't mean it like that, though everything she said was true. He also knew she wouldn't say anything else until he did. She had always been like, stronger than those around her, but trusting those she loved. You just don't want to disappoint a person like that, and he had vowed not to, but what does a man do when his promise to love and protect is based on resources no longer available? Making more promises is not the answer, he did know that. Yet there she was, scared and trusting him.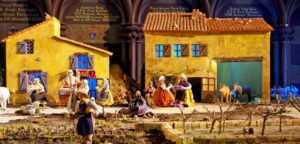 His father had passed on to him the fundamental truth of their profession, that a beam fits or it doesn't. Stand on what you know, admit to what you don't. He would have to go with that.
"You didn't cause this, Mary. I didn't cause it. We both know God himself started this, so we assumed everything would work out, somehow. It hasn't yet. We either trust Him to see us through it, or we don't."
"Oh, Joseph, I know that. I just don't like seeing him start life this way. I wanted to be a better mother than this. I just don't know how to do that … like this."
"Look at me, Mary."
She brushed some straw off her son's face and turned back to her new husband.
"I wish I knew what to do next. I don't. But what I do know is that I would not change a single thing. If all this had to happen to put you in this place with me, us together, I would agree to it in a heartbeat. If this is God's plan for things working out, you here with me, I'm happy. I think its perfect, if you want to know."
"You're sure you mean that?"
Joseph let his words stand. For several minutes they just watched their infant sleep.
"That's all I really wanted to know, Joseph. I'll be fine. I trust you."
"I would love to deserve that, from a person like you. I need to say, Mary, that we need to remember this night, and this conversation, because I think this is going to get worse before it gets better. We might be left with only this."
It did immediately get worse for them. The governor of the region wanted their son killed, and he slaughtered hundreds of newborns in the attempt to do so. Mary would later watch her son die in ridicule when they finally caught up with him. The time in between was no picnic.
We were told the details of that beginning night so we would know that by design, not by fate, Jesus has already lived our worst fears. He will now walk us Home, through whatever we have done to ourselves, or whatever happens to us.
If every day is not Christmas maybe no day is Christmas, but we do have an annual opportunity to remember two scared kids who decided to live without fear. It wasn't themselves they trusted, but the little kid who slept through it all.
Please follow and like us: