How To Marry A Billionaire, A Hunky One
How to marry a billionaire paraphrases the title of an old movie with Lauren Bacall and Marilyn Monroe. They wanted to marry millionaires, but with inflation, men have to make a lot more money to get a Bacall or Monroe to want to marry them. That's just the way it is; fifty years before that movie, all you needed to get a famous beauty to marry you was a few thousand bucks and a Model T.
My Kindle has recently shown ads for books with a new kind of romance hero. This hero is a billionaire, and even though he must spend most of his time in front of a computer or in business meetings, he's super buff and hunky and no older than 30. I wouldn't doubt this combination of rich AND hunky AND young if it only happened once or twice instead of every day.
The odds of finding one of these hunky young billionaires for your very own appears astronomical, but only in real life. Judging by the few billionaires I've seen, most of them are already taken, usually by someone they worked with, but from whom they will be divorced in ten to twenty years, at which time they are no longer 30 and hunky. Bill Gates and Warren Buffet aren't exactly George Clooney clones, either. George Clooney isn't even a billionaire, is he? So what good are his looks if he can't be a billionaire?
But hang on–these billionaires can be yours eventually, after their divorces. Maybe. If not, you can always find a rich, hunky, lonely young billionaire with the turn of a virtual page.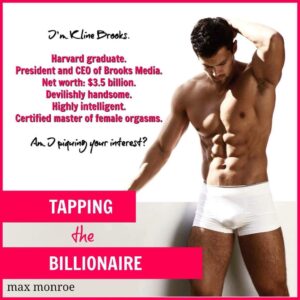 These books are best selling romance books, and presumably written for women. Max Monroe, the author of the book above, is actually two women named Max and Monroe. Pretty slick. I thought a man was jumping on this romantic gravy train. I usually get ads for books about murder and mayhem, crimes which only a spice shop owner who knits blankets for newborns can solve. The billionaire bit is new to me, but is worth priceless minutes of entertainment.
How many men do any of us know with abs and a package like the guy above? How obvious can you get, anyway? No need to put it all in the shop window, dude.
Making money, unless you inherit it, takes time, just like building hunky muscles does. Spend that much time doing both of those things, and how much time is there left over for little ol' broke and sad female reader? The woman he wants is not spending all day at the gym, nor is she flipping burgers. The woman who runs a company that makes a billion dollars is the one who's gonna attract this amazing billionaire.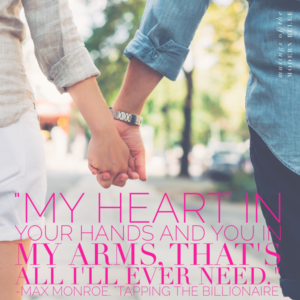 The billionaire cover above is so touching. Her heart in his hunky hands and him enclosed in her toned and perfect arms, and that's all she'll ever need. Turns out, he's a billionaire, too, so we know she has serious need of shoes at any given time. Maybe pairs of shoes on the scale of Imelda Marcos. This billionaire is even touted as having a very large appendage in the book description. My, my. This guy literally has everything. Why on earth would he want to get married?
One series of billionaire romance books features brothers, one of whom owns an NFL team. His opening thought in the book as he slides into the leather seat of his Porsche is: "I know owning an NFL team is a lifelong dream, but dang, it's a lot of work."
Poor baby. First, because he has to work really hard at his NFL–which stands for Not For Losers–and second, who is he talking to in this thought of his?
The description of the main female character–the one who will rope in this hard working billionaire–as she thinks about this poor schmo with a Porsche, goes thus: "The last thing on earth I need right now is a casual fling with a hot billionaire. With a four-year old daughter and a classroom full of eighth graders, there's only one kind of relationship I'm looking for…a lifelong partner."
Hahahaha! "The last thing" she needs as a single mom who's a public school teacher is a billionaire? A hunky, YOUNG billionaire? Snort. Just for her, and for all the readers of this book, I found a photo album of all the NFL team owners. These "hunky" billionaires would make excellent "lifelong" partners, seeing as they are at least in their 70s and occasionally a woman.
Another series of these romances features black women and white men. The men are the billionaires, 'natch, because these are still women's books. If the women were the billionaires, they'd kick the sorry butt of any man who tried to move into the mansion with them.
One of the books is about "mature" love, as in a 65 year old woman whose son is in jail. She is in great demand as a house cleaner, so she comes to the billionaire's attention, who naturally hires the household help himself. She needs the rich white man's help to get her no good son out of prison. She offers to work for him in return for his help, because let's face it, he needs the savings. He's even been known to clip coupons for orange juice and toilet paper.
"Feelings" develop between them, probably while she was bent over making the bed and cleaning the bathroom floor in one of the innumerable bedrooms, and this mature white billionaire falls for the mature gray haired black lady who wears a velvet smock. He's got a nice, mature six pack, though. Good for him. Walking around the manse with his shirt and jacket all undone, trying to diddle the maid.
We're talking BIG time fantasy here.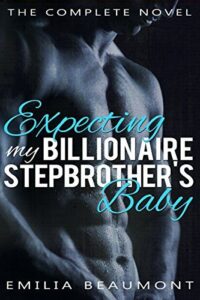 The featured image at the very top of this post tells us a virgin is in the story. Seems some billionaires decided they wanted something special, too, and that something is a virgin. In These Here Troubled Times, virginity is as rare as a hunky young billionaire, and all his billions won't buy it back once it's gone.
May we wish him all good luck with that. Especially since his rap sounds like a 1940s film noir crook, doll.
Please follow and like us: