Baccarat Baby: On Becoming A Bacca Rat
It's baccarat, baby! A friend of ours has been coming over to give us all lessons–and homework!–on baccarat. It's a pretty simple game, so you wouldn't think it would take a course to learn it, but find the simplest things in life and we humans will find a way to complicate it. Just name anything, and then tell me I'm wrong: Eating (what, when, where, and how?); sleeping (what, when, where, and how?), going to the bathroom (what, when, where, and how?); etc, etc, etc.
Baccarat is not like eating, sleeping, or going to the bathroom, I hasten to add–unless you refuse to ever leave the gaming table, which happens, as evidenced by people going to the bathroom in their pants at the aptly named craps table- but it is mighty absorbing. Our friend has been playing it for a couple of decades now. He always talked about it and I've wanted to go with him and learn it, but never seemed able to schedule it. Baccarat is one of the best games to play because the player has a better edge than in most other games. The banker bet pays over 50%, which is why the player has to pay a commission on it.
Our friend had discovered a new system of playing baccarat–there are a ton of strategies for every game out there–and it's been working for him. He has not gone home without a profit. He treats playing like a job; he goes at certain times, stays for around two hours, and goes at least three days a week.
Despite five years of dealing blackjack at The Golden Nugget and living in Las Vegas, I'd never played baccarat and had only dealt it once as a relief dealer. On that occasion, I'd had one player at the table, an older man from Texas who sank 15 thousand down the table in five minutes and then said he wasn't going to cover the credit from the casino because he hadn't won. That went over like a lead balloon with the pit boss. Watching $15,000 disappear in a few minutes wasn't a joy ride for me, either.
Baccarat is not like blackjack or poker–the players never touch the cards. There are a few side bets, but Rule Number One is never to bet on the side bets, such as the Tie. There are a lot of Rule Number Ones in this new venture. Another Rule Number One (or Two as it's known in the real world), is never to draw attention to yourself. Ergo, don't bet so big they start watching you. Don't be the "alphabetter." There's a strategy for betting, whether winning or losing, and if followed, the player won't endlessly chase his or her money.
Jay Silva is the strategist we've been learning. His real life training is expensive, 'natch, but he has a lot of videos on YouTube University. Our friend found him last year when all the casinos were closed (apparently, casinos don't count as "essential," even though they probably employ more people in Las Vegas than any other business in existence.
I spent three days watching the videos, making notes, we had two training sessions with our friend at the dining room table, and I did practice sessions with a simulator on the computer, but I still wasn't clear on exactly what I was supposed to do–which includes making notations in columns on each hand played. For that I took a notebook and kept track of Banker and Player wins by making little dots in the columns, and I circled the ones I had won. Finally, I decided to go to a real live casino and play for real. (There happen to be several near to where we live.)
The first lesson I learned was that the ATM in the casino doesn't accept my debit card from USAA, so I used my credit card and they charged me $12 for that privilege. It took the cashier in the cage a long time to verify that I am the person depicted on my driver's license. I don't have Player Reward cards, because we never gamble, and because they can keep track of you with those, and that would break Rule Number One, version 3: "Never let them keep track of you."
I guess just by writing this I'm kind of breaking that rule, but if Jay can do it, I can, too.
There was no way I was going to sit at a real table and play quarter hand minimums as a noob. There are other options, though. The casino I chose has a computer baccarat game. The hands are live, but the players sit at baccarat machines with a $5 minimum. OR…..there are baccarat slot machines! That was what I wanted to try my first time out.
I looked around for the banks of baccarat slots and couldn't find them. I asked one of the cleaners, who radioed the slot supervisor, who asked a pit boss, who didn't know, either. Finally, the supervisor spotted it near the computer baccarat game and not far from the pit.
I sat down and fumbled a bit with the money, and she asked me if I had ever played before. I told her no, and she said, "Oh, boy." Haha! See, there are humans who inhabit casinos! And you thought they were all Shylocks in Training.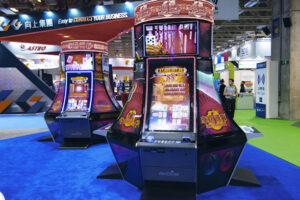 After making myself comfy, I fed a twenty dollar bill into the slot machine and Wahla! A game started! You can't just hit buttons on this machine; you gotta "interact" with it. You have to use the touch screen to get the cards to "turn over" and and you have to touch the player or banker, depending on which one you bet. I discovered if you hit the chip denomination more than once, it raises the value–touch the $10 chip two times and you've just bet $20, and so on.
The minimum bet is $1 on the machine, which was perfect for me. At least to begin with. After an hour or so, I was feeling pretty comfortable and my credits had grown to over $80. I began betting with $5 chips. I kept track of every single hand and tried to remember my lessons. If you don't write down the TI (trending indicator), with a plus or minus, Jay says you're gambling. I guess I was gambling, but I don't have that part nailed yet. You also have to look at the last five hands played to know what the TI is for that shoe and whether the Player or Banker is predominant. Out of five hands, one of the two will be predominant.
Finally, after a bunch of time had gone by and I hadn't even glanced around me, I was down to fifty cents in my credits and I'd already fed the machine another twenty dollar bill and a ten dollar bill out of my "bank" of a $100. I really didn't want to lose an entire $100, so I told myself, said I, "I will play the dollar bills I have"–there were five of them in my purse–"and that's it. I'll leave when that's gone."
I managed to get that five dollars up to almost $500.00. Each time I hit another hundred dollar increment in credits, I tried to get it to go higher. But I was getting tired and bored. I kept losing to under $200, and then $100, so I risked $50 on a couple of bets, plus some $30 bets and $40 bets and won most of them. I did it because at that point it was in credits and I wanted to see if I could win.
It wasn't just luck, betting those bigger increments. I was following the trend indicator the best I could, and had I stuck with the "dragon tail," like I was told to do, I'd have won sooner. There are a couple of player runs in my notebook that went up to 8, but like a ninny, I switched to banker instead of riding it out.
Rule Number Whatever This One Is says that you go to the right if you lose, for no more than four losses (going to the right or left is the betting strategy), and you go the left if you win, which means you bet less. The strategy is good for not losing everything you've won back to the casino and for teaching you not to chase your money with more and more money. The problem I have with the slot machine is that I don't know if those virtual cards are "real" cards. Most games of "chance" are always in favor of the house, but they are also dependent on who's spinning the wheel, or who is shuffling the cards.
The casinos came up with a way to beat that loophole, too. They now use machines to shuffle the cards and the machines have a way of shuffling the cards in the casinos' favor. Jay's strategy compensates for that, which is why studying it and doing homework is necessary.
Since all bets double and I won most of the big ones I'd made, I was back up to over $400 pretty quickly. When I was down to $398, I went once more, won, and cashed out at $400.50. I still had $60 of the original hundred. I was feeling pretty good.
It was around 2pm when I started playing, and by the time I stood up, it was a full four hours later. It had felt like five minutes. My legs were so stiff, I almost fell over. My neck was killing me and so was my "playing arm." But I'd made $100 an hour.
Our friend drew up a timetable for how many units–money–we would play each week. If the three of us go (although I'm not sure Don should go unless it's early morning because I felt like I'd smoked a pack of cigarettes by the time 6pm rolled around, which is why our friend's friend goes at 6am when the casino is dead), we are to bring back $100 a week for the first two weeks, which is no more than $10 a bet, assuming we play four days a week. We are to divide that three ways: a third to the Boss (the bank), a third to ourselves, and a third to the SHF, the Shit Happens Fund.
In our case, I would skip the middle man and put 2/3rds into the SHF. SHF is almost all we've got going on, the house needs so much work.
By the time the money graph is over–by the second month–we would each be bringing home $16,000 a month. That's almost $50,000! In a month! I nearly passed out when he said that. True to form, I started worrying about hiding the equivalent of El Chapo's money somewhere safe, because Rule Number One, version four is, "Don't Put the Money in a Bank. It makes the Feds very, very curious, and that's never good."
We started talking about this non-existent money and where to keep it. We could bury it, fly it down to funky Nassau like the Pan Am pilots used to do to hide their money from their first and second wives, stuff it in hollow fence posts, or hollow beams in the house, or in a hollowed out mattress. Which started me worrying about fires, naturally. There goes our profit! Up in smoke.
Finally, I gave up. If we manage to bring home $50,000 a month in cash, I'll buy someone to hide it for us.
Please follow and like us: