Taking On Thanksgiving: 13 Kind Of True Facts About It
Taking on Thanksgiving shouldn't be hard. Hardly anyone trashes on it like they do other holidays. Oh, sure, there's been some nonsense about the hollowness of a holiday where we took a whole country away from Native Americans, even the spots where they hardly ever went, like Cleveland. I always suggest these people give their houses to a tribe of their choice and stop using all the amenities of Western civilization, but strangely enough, that never goes over well. I think they'd just prefer the rest of us pony up some money and give it to a lot of people we don't know.
Let us not digress. Let us proceed to give thanks for anything from which we can glean some fun.
13 Kind of True Facts About Thanksgiving, For Your Edification:
1. Abraham Lincoln proclaimed Thanksgiving a national holiday on October 3, 1863. Sarah Josepha Hale, the woman who wrote "Mary Had A Little Lamb," convinced Lincoln to make Thanksgiving a national holiday after writing letters for 17 years–presumably to Lincoln–who finally went to the theater one night just to get away from Sarah's letters. It was the last time a president dared to duck out on his correspondence.
After 17 years, Mary and her little lamb were long gone, and the only pet left at the Hale house was a turkey. So guess who was up to bat?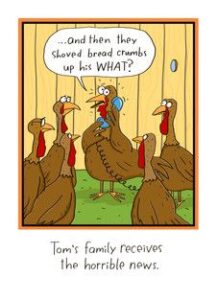 2. Thomas Jefferson refused to declare Thanksgiving a national holiday even though Sarah wrote to him for 17 years, too. She then took to calling and emailing him, but Tom declared himself independent of such old school belligerence and blocked her on social media.
He believed in the separation of church and state, and Thanksgiving just had too much prayer in it for sticklers like Tom. Once he discovered that turkeys were atheists, however, he softened his stance and rang up R.H. Macy and told him to start a store and have a parade in November, and while he was at it, to invent New York City.
3. The first Thanksgiving was celebrated in 1621 during a harvest festival. It included 50 Pilgrims, 90 Wampanoag Indians, 80 Shriners, 63 Girl Scouts, 42 Hell's Angels, and 13 beekeepers. The festival is believed to have lasted three days, although none of the participants were ever sure and couldn't remember anyway–and historians, as usual–are just guessing.
4. There are four towns in the United States named "Turkey." They can be found in Arizona, Texas, Louisiana, and North Carolina, although the greatest number of turkeys is actually in Washington, DC.
5. Number 4 is the real reason presidents have taken to pardoning turkeys. Some of them are their best friends and are generally serving jail time. Harry Truman, who had received a turkey as a gift from the National Federation for the Advancement of Turkeys, killed and ate it for dinner and was thereafter known as the Cannibal in Office. The IRS subsequently evolved from Truman's cabinet postings and was originally named the Bloodsucking Cannibal Agency, or BCA.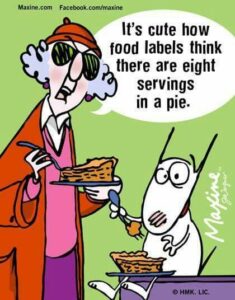 6. Butterball answers more than 100,000 turkey-cooking questions via their Butterball Turkey Hotline each November and December. If Butterball had not tattooed their phone number on the butt of every turkey, they could get some peace and let their employees go home to enjoy Thanksgiving.
7. The tradition of football on Thanksgiving began in 1876 with a game between Yale and Princeton. Harvard declined to play on the grounds of underinflated balls, and accused both Yale and Princeton of messing with their balls. The first NFL games were played on Thanksgiving in 1920 and when advertisers realized the money they could make, they invented television and passed a law that everyone had to watch it during dinner. People were afraid to break this law until they realized advertisers are not allowed to pass laws or put tags that say, "Do Not Remove Under Penalty of Law" on televisions or turkeys.
Because of football games, divorce rates skyrocketed and women were implored to pardon their turkeys. Instead, women called Butterball asking for marital advice. Butterball employees, understandably confused, advised them to say, "Get stuffed, Butterball," and leave the house to go shoe shopping.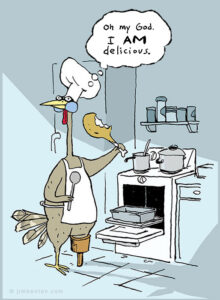 8. More than 54 million Americans are expected to travel during the Thanksgiving holiday this year. That's up 4.8% from last year. They will have trouble finding the turkeys though, once they get to Mom and Dad's house. Turkeys have taken to wearing medical masks to go along with that thermometer stuck in their bottom and no one can tell them apart from a chicken or a medical worker.
9. In 1953, a Swanson employee accidentally ordered 260 tons of turkey. A Swanson salesman came up with the idea of filling 5000 aluminum trays with turkey, dressing, gravy, peas, and sweet potatoes to serve on flights. Within a year these meals were a new industry in America: television dinners. Advertisers jumped on this opportunity to pass another law that said people had to eat a television dinner in front of the television while watching the NFL games. Advertisers had also sneakily passed another law stating they were allowed to pass laws.
This law is still on the books and the Supreme Court cites it as a precedence in almost every case they hear.
10. Americans prepare 46 million turkeys for Thanksgiving each year. On Christmas, an additional 22 million families host an encore with another turkey. By that time, they are heartily sick of entertaining turkeys and pretend not to be home when they arrive.
11. Originally thought to be an invention of a commie named Trotsky, America's first turkey trot took place more than a century ago amid protests from Republicans. Later, much to the embarrassment of the party, the turkey trot was discovered to be a digestive disorder which occurs after dinner at a relative's house.
The turkey trot race, though, was hosted by the local YMCA in Buffalo, NY and included just six runners — although only four of them made it to the finish line. One runner dropped out when his "late breakfast refused to keep in its proper place" and another simply excused himself after two miles. These runners were known as "The First Turkeys," and have assumed their rightful place on American sofas to watch football games.
12. Only male turkeys make the gobble sound, because they eat the most. What was generally assumed to be a gobble, though, is actually a grunt when male turkeys undo the top button of their pants after dinner. Female turkeys cackle, generally when their mates go wandering up to people who are carrying axes.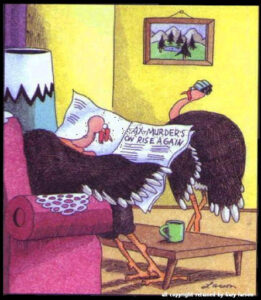 Happy Thanksgiving!
Goodhousekeeping: 25 Thanksgiving Trivia Facts
Please follow and like us: