Hip Replacement Surgery: The Hippie Hippie Shake
Hip replacement surgery isn't the walk in the park they lead you to believe it is.
I haven't been to the park yet after my hip replacement surgery last week, and am still hobbling around the house trying not to trip over dogs.
Furthermore, I tried to play the piano and nothing came out but the dust that's been on the keyboard for months. I'm sure I was promised that I'd be able to play the piano after surgery. They drug you a lot at hospitals, so there's no telling.
When I do hoist myself out of bed for that much needed hobble around the house, both dogs match steps with me. They're like a flash mob who never needs a rehearsal. When I stop, they stop, one in front, one in back, adopting a pose similar to a Labrador Retriever's when it sees a duck fall from the sky in a field or stream and strikes the Retriever pose to point it out to its master.
"It fell over there, Master! Can I go get it now?"
Except our two wouldn't wait for the go ahead to run right over to where I'm lying on my back like a turtle. They'd lick my face, tromp all over me, and demand I get up and get them a treat for showing such intelligence as to recognize me, their mother, in their living room, face up and helpless to do anything but wave my feet in the air.
We arrived at the hospital at 6:30 am for surgery two weeks ago. I spent the time between then and 8:30am or so answering the same questions from three different people about why I was taking up space in their hospital. I told them my name several times, why I was there, and which leg would be carved up for dinner, etc.
By the third go round of answering these questions, I began to suspect that hospital personnel is not very bright, or maybe they need their computer system updated to save information, or perhaps they don't trust me to have the right info about myself. What would have happened had I said I was in for a brain transplant?
The doc came by to say hello as I arrived at that little pre-op cubicle area. He was looking well and at ease, while I was struggling just to get to the bed.
I rested my head against his shoulder for a minute and asked him if I needed to put an R on the left leg to signify it was the correct one. I didn't want the wrong piece bending the opposite direction put in my hip; I'd be going around in circles for the rest of my life like a grocery cart with a wiggly wheel that only goes right.
He just laughed and marked my left foot with an "X." Very cryptic, but it did the job.
After that, I lay there in scrubs after wiping myself down with six more of those antibacterial pads.
I'd already done that twice; once the night before and once that morning, but you can never be too germ free for the hospital. I was so germ free, I went three days without a shower and still felt clean. Then someone gave me a pill and told me it was to help me relax; another in a series of lies they tell you to keep you from stealing a wheelchair and getting the hell out of there.
I woke up in a room and can't remember what I was feeling. Those oxycodone numbers are good little pills. I've already quit using them, but man, they sure are comforting.
Just about everyone who is anyone came by to see me the first day after surgery. I felt like a celebrity. By the second day no one cared, but that's okay. I can't take too much of that kind of attention.
I'd been looking forward to the food, and was sorely disappointed. It was like cafeteria food and nothing remarkable. Los Angeles could do so much better. I should have ordered a pizza.
The worst part of the whole stay was the first time they got me out of bed and then swung me back in. They weren't quite gentle enough, and that's the one time I remember screaming and then sobbing.
Dr. Klapper came to visit my bedside too, and I assured him his little X on my foot had done the trick. I had pulled through and had awakened, even though I'd been egregiously drugged without my knowledge. As he left, I said, "And you were worried!" He just laughed. Why would he worry? It's not his leg!
He told me I inherited some toughness from someone, maybe my grandmother. I had two of those, one a Jewish grandma who owned and ran a clothing store with my grandfather, and an Episcopalian grandma who nipped at the bottle quite a bit. Why he skipped my mom, I don't know. She was pretty hardy in many ways, teaching herself to figure skate well enough to be in an ice show, and touring the country with the show. And then having four kids and following my dad all over hell and gone.
At any rate, he said I was one tough cookie, and that neither he or the MOTH (the man of the house) could have put up with what I have for years in terms of pain. I imagined a hip bone worn to the nub and smirked at Don.
I saved up this conversation for future reference. Like when I see a spider or get a headache.
He also said my surgery was "challenging", which translated means, "You are one messed up patient and you made me miss my golf start time." He added that I have "bragging rights over any slacker who only THINKS they had hip replacement surgery."
Ha.
Bottom line, if you'll excuse the pun, I gotta lose the cush in the tush to have the second hip done. Sigh. The doc could have just done a quickie vacuum lipo thing while he was at it.
Being at home in bed has been the worst part. By the third day, I could stand up by myself and have even managed to get back in bed by myself a few times. But my southern half is still swollen twice its size, and I can only sleep sitting up. I burst into tears for no reason that I can see, except that I feel lousy. My butt is really tired of this and I won't see the pool or any cardio for four more weeks, minimum.
It is nice to have my son waiting on me, I must say. He makes and serves my meals in bed, and today he remade the bed with clean sheets. The bed was so pretty I took a picture of it. He hides these myriad domestic skills knowing we will want him to perform to whatever standard he set previously. He's no dummy.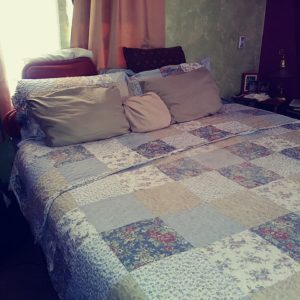 The MOTH does all the bandage changes and whatever else needs doing.
We've returned for one post-op visit and I still have all the staples in my hip. I thought the PA was taking out the staples when she was only removing the sutures.
I can take those babies out myself with a little visit to Office Max.
Meanwhile, an incipient song keeps running in my head: "She got titanium hips, she got the Botox lips; she got the Silicon Valley chest! She's my fakey, fakey baby…."
Well, it's a work in progress.
Please follow and like us: