There are 7 reasons to be a hippie, even if you've never been one. When I was young, many hippies were on the loose. I was at university (How British!) a million years ago in a classroom full of students, all of us waiting for the teacher to start the class.
Finally, in walked a young-ish man with long-ish hair, wearing hippie-ish clothes. I immediately dismissed him as just another student, when of course, he was the professor.
I harrumphed, (in my mind) pulled my mini-skirt down a little-ish, which is all the little it would go, and thought about appearances.
Not really; it would be many years, a gradual change of character, and a love of wearing big, bleach-splattered tee shirts most of the time, for me to stop being Ms. Judgy Judgerson. (I like the Ms. added to the name. Ms. JJ is very hip, and came of age during the Seventies.)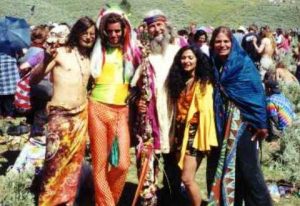 Please follow and like us: