My Big Sur Seven Million Dollar House
I've been shopping for my Big Sur seven million dollar house and doing my due diligence. For instance, to be sure that a seven million dollar house is the house for you, you will want to drive by it on weekends and at night to make sure neighborhood kids don't make a lot of noise and throw trash in your yard on the way home from school.
Rich kids probably don't go to school. No doubt they have special dispensation to not have to learn to read or write. Why would you have to read and write if you're rich?
A few weeks ago, in a moment of low key defiance, I subscribed to a realtor's email notification of available houses in Big Sur. "Maybe I'll find a cozy cottage in the trees overlooking the ocean for under a 100k," thought I.
I subscribed mainly to see if they'd send me listings. I thought it'd be like trying to buy a new car and they'd want to check my bank account. The joke would be on them, because there's not nearly enough in my checking account to buy a Big Sur house.
But no, apparently, it's okay to traipse virtually through rich people's houses and no one will put you in jail for it.
Owners of seven million dollar, or even four million dollar Big Sur houses, do not care who sees the inside of their homes.
There's never a single personal item in view in these pictures, just peaceful and pleasant perfection in every room. Any picture taken inside our house, in any room, from any angle, will showcase a clutter of stuff, even though my house is fairly neat.
There'll be a pair of shoes somewhere, books and magazines lying around, maybe a coffee cup or a plate with the remains of a meal sitting on the side table. In the kitchen is a blender and a coffee pot, dishes in the dish rack, dog dishes on the floor, a few weights at the end of the room.
The list goes on forever of "stuff" in view in my house that takes away from the overall effect of being a Big Sur seven million dollar house.
Here's an interior picture of a house in Modoc County from our budget bracket:
Stuff, stuff, stuff. There are even boots sitting over there to the right on a table next to the chairs. What's that about?
For contrast, here's a kitchen from a house that is not in our budget, being as how it's seven million dollars. Look at the refrigerators in both kitchens. They look pretty similar, which is kind of heartwarming, although the bottom fridge is probably full of $200 bottles of wine.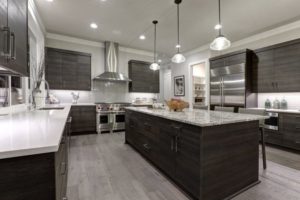 Whereas, in pictures, and in real life–if you get right down to it–everyone can see the mess we put on our fridge, affixed with all my collected magnets saying things like, "Forgive me, for I have Zinned," and a picture of a wine bottle.
Or a woman from the 50s pouring coffee for a friend, and confiding, "I never met a man I couldn't blame."
I have a feeling rich people don't own stuff. They just throw things away and buy new every day.
The realtor sends me Big Sur listings once a week. I go tra la la-ing through rich people's houses, trying to decide which one I like the best. Which mansion should I buy? Which has the best ocean view? The best kitchen, baths, five bedrooms, or the most windows?
The one below would win hands down for windows. Look at all the pictures of this place and when you see the road to it, imagine forgetting eggs, bread, and butter before going home.
Or forgetting anything for that matter. Then try to imagine having two small kids. It would kind of negate the purpose of the windows, having millions of tiny fingerprints on them: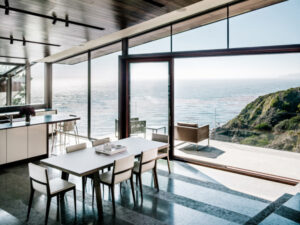 The way kids run full tilt at things like windows and cliffs, I would just keep them away until they reach 18.  Even if you decided to ruin your perfect Big Sur life by having kids, I still can't imagine selling this house. Why on earth would you?
I'd just have stuff delivered by drone and never leave it. They'll find me in one of those lounge chairs looking out over the ocean, thirty years from now, a skeleton enjoying the view.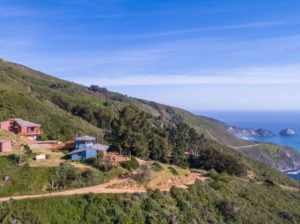 True to my station in life, the first things I think of when I look at a seven million dollar house are: A) How hard would it be to keep this place clean? B) Can I bring the groceries in from the car? C) How many windows does it have and how high up are they, because I know I'll be the one who notices they need Windex-ing?
This is known as "window shopping," in more ways than one.
Never does it cross my mind that my Big Sur house will require weekly payments of $10,000 in taxes, and that the mortgage will be $20,000 a month at the very least, depending on my down payment, of course. I figure I can get one million people to chip in so we can all own this house, or one like it. We'll take turns going there. The neighbors are gonna love that.
The amount I allotted for taxes may be a conservative estimate. One of these days, Ima call that realtor and find out the answer to the tax question.
Once I find out, I'll know just how long I can bunk in one before the state comes to take it away. I'll hide in the trees and come back inside to tra-la-la some more until it sells.
Whenever they come with a potential buyer to show the house, I'll egg the windows and scare them away at the thought of a pterodactyl that haunts the Big Sur mountains and can't keep her eggs inside.
There's plenty of windows for this nefarious plan.
Please follow and like us: