Adventures In Los Angeles: A Journey On Freeways To Cedars Sinai
Last week we had our adventures in Los Angeles, which were pretty tame, if you ask me. But tame is what we're aiming for at our age. No bungee jumping off freeway bridges. We avoid that at all costs.
We didn't get to LA until after 10pm and I worried the whole way that we'd be driving right into a fire (because this was during last year's fires), which was never even close to reality. We did see one fire, though. It was off the freeway in Upland and blazing merrily away in high winds. It was contained to one business and a fire truck was on its way. But you really have to wonder about "coincidences" like that.
I wanted to spend the night close enough to Cedars Sinai to arrive on time for our consultations with three spine surgeons at 11am the next morning, but far enough away that a motel room wouldn't cost more than a day's pay. Depending on where you work, I guess.
We stayed at the Travelodge in Bell, which is 13 miles and 26 minutes away from downtown Los Angeles and Cedars Sinai.
At 8:30 am I picked up my phone and checked Google Maps for how long it would take us. "It is approximately 28 minutes to your destination," sez Great Pal Shirley, otherwise known as GPS. "Wonderful!" thought I. "Perfect!" and proceeded to get dressed.
At ten o'clock, one hour before the first appointment, I checked the phone again, for lo! Los Angeles requires great enthusiasm of spirit and a certain perky readiness to face dangers and travails unknown to rubes from other parts of the globe- namely, Nevada.
"It will take 52 minutes to go 13 miles," sez she now. "Can you believe it?"
"Move out," I yelled. "This is LA and circumstances have changed!"
Shirley took us to Cedars Sinai, alright. Along so many surface streets, past so much graffiti, that overpasses without graffiti looked weird, through nice neighborhoods to sketchy ones in the space of two blocks, and then finally popped us on a freeway.
Los Angeles freeway entrances are something you forget and have to get used to all over again. I've never seen any others like them. They don't bother with much of an introduction. They're very casual, no fanfare; once you see the sign for one, there you are. The entrance is right there and the length of a driveway.
At Cedars Sinai
Against all odds, we arrived at the Spine Center on time. It wouldn't be until many hours later that I realized I had left my Kindle behind on the bedside table in the motel. Leave behind a paperback, and you've left behind a paperback. Leave behind a Kindle, and you've left behind three hundred books. The library books are available on my phone, but that little screen gets tiring.
Normally, I'm obsessive about checking hotel rooms for items, but the hotel note pad was lying on top of the Kindle and I was so zonked from trying to sleep on the rock hard bed in the handicap room (why are handicapped people relegated to a bed with the firmness of asphalt?), that I spaced it.
It was turned in however, and I sent a prepaid envelope to them and will get it back they told me. I believe them and am quite impressed. One thing that makes a Kindle undesirable as stolen goods is that you have to have the same taste as the person who owns it. It's registered to the owner.
We had appointments with three docs. Three docs good and true, we hoped. We spent several minutes in the first office enjoying the view of the Hollywood sign and hills, and gazing down at the backyards of the people who live around the bottom of the Spine center. I'm a fan of nude sunbathing and that would not go over well in a location like that.
The first doc breezed in, asked me my story, told me to walk up and down the hallway, remarked that I do appear to be out of whack, and sent me down for Xrays of my back. Then he informed me that I need a fusion all the way up my spine. That alone cured me and I was able to run screaming out of his office.
The second doc said to me, "No way, Jose. You just need a fusion at L2 and L3." I responded that my name was not Jose.
The third doc was juuuuust right. Not too hard and not too soft.
Okay, he was really a tall young Asian guy who was quite attractive and sharply dressed in an orange tie and tan cowboy boots. I saw his boots first thing because I look down a lot to make sure of where I'm walking. Or trying to walk. I told him I liked his boots.
He looked at my MRIs, sent me down for my third trip to Xrays, but for my hips this time, and then told me to "Run from spine surgery as fast as you can" (which isn't fast at all, considering why I was there to see him), "because nothing is wrong with your back. You need two hip replacements."
Holy schmoley. No one had ever, for the last seven years, told me there was anything wrong with my hips. It was always my back. I am not very happy with spine doctors at this point. I've already had a laminectomy that probably did more harm than good, and now two spine docs were completely overlooking what was obvious to one doctor and advising more unnecessary and highly invasive surgery.
An entire fusion??? What am I? Frankenstein?
The young doctor said he'd seen it before: people go in for back surgery and come out in the same shape- still in pain and bent over, because the trouble is in their hips. As in hip arthritis.
The very day I was there, a friend was having her second hip replacement at St. John's. She had been told the same thing by a spine surgeon: that she needed a full fusion. She went to the head of orthopedics at UCLA and he told her it was her hip, not her back.
This doc also checked my symptoms a little differently. He pushed my legs sideways rather than up and down. The fact that my pain is in the front of my legs is also a symptom of hip trouble, not back trouble.
We left in a daze and girded our loins for the trip back. We skipped the deli meal we'd planned on since we'd eaten at a Spanish restaurant two doors down. It was surprisingly affordable.
But before we hit the road, I wanted to see the Witch's House which is just two miles from Cedars. It was my mother's favorite house and I still have the model of one like it that a friend of hers made for her many years ago.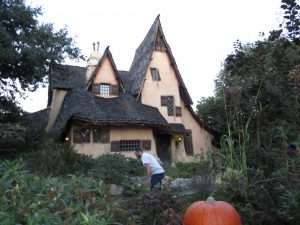 It is a fine example of Storybook architecture, and I want one just like it. It's perfect for luring small boys and girls into a stew pot and pie shells.
Great Pal Shirley sent us on home through the foothills of Beverly Hills. I guess she thought anything was better than the Los Angeles freeways. The MOTH was convinced she was just stoned, it was such a roundabout way to go home.
I loved the trip past those fantastic homes, but then I was the passenger. At the end of the drive, it took us a full hour to go half a mile, because Shirley had sent everyone that way. Those streets are so narrow there's barely room for two lanes. I think the MOTH would have preferred to be stuck on the freeway. At least you can pull off, grab a sandwich and a cup of coffee.
All in all, it took us three hours just to get out of Los Angeles. The real kicker is that the MOTH, who has asthma, felt better in LA, where the fires were, than he does in Vegas! What a weirdo. Now we have to move to downtown Los Angeles.
At least our car is parked there.
Please follow and like us: