Emergency Preparedness For The Income Challenged
Emergency preparedness has been on everyone's mind since…oh…at least since the Flood. Noah prepared very nicely for that. He even thought to bring two of everything. Just because he messed up on the gender a few times when it came to the livestock, is no reason to give him flack. And if you do give him flack, make sure you double it.
Preparing our house for an emergency has been on my mind for almost as long as it was on Noah's, and he had a higher authority bossing him around.
While thinking about it, I had quite an insight about humanity. When any of us are in trouble, serious trouble, like we got our foot stuck in between railroad tracks and a train is bearing down on us, we yell, "Help!"
Why would even the most hardened loner among us yell for help, expecting to get any from the nearest bystander? It clearly shows we all have a modicum of optimism, universally shared. People yelling for help in every language. Except perhaps when it comes to sharing our carefully hoarded supplies in an emergency.
That was my big insight for the day, and since it means absolutely nothing, you are welcome to put it on a tee shirt. Or two tee shirts.
In an effort to ensure my little family's survival for 3 days to 3 months more than the rest of the neighborhood, we buy extra canned goods and paper products each time we go to the store. Unfortunately, there doesn't seem to be much variety in the affordable canned goods genre, so we'll be eating a lot of chili, ravioli, tuna, and maybe a soupcon of Beefaroni for those light-less nights when we want to go fancy. Beefaroni by candlelight is the only way to go.
All our supplies are stored in the alcove off the kitchen and I get a sense of satisfaction looking out the window at them. There's fruit cocktail out there, too, and that's very tempting. Except that they put too many hard pear pieces in the cheaper brands. Are pears the same as the last person chosen for teams?
Just as I thought I was doing pretty good in the emergency preparedness department, I remembered we have four dogs. We can either eat them when the time comes, or we have to prepare for their survival as well. That means water and food. Well, dang it. I guess we'll have to share our Beefaroni.
Anyone who thinks we'd be better off without the dogs, hasn't seen Apocalypto. They ignored their dogs to their detriment. I don't want to end up on a sacrificial Aztec altar because we ate our dogs.
To prepare properly for the coming apocalypse wherein the a) grid will collapse, or get hacked by Chinese no-gooders; or b) a civil war will break out between the have nots and the have less-es; or c) a natural or unnatural climatic disaster inevitably occurs wherein dinosaurs will once again roam the earth, I bought a book on Amazon: 101 Things to Buy Before the Dollar Disappears.
It's an intriguing title. Four or five of those dollars disappeared right into his book.
Apparently, a lot of dollars disappeared because I can't afford most of the stuff he tells people to buy. I have a book already about being self-sufficient, but that has instructions on how to build chicken coops, skin deer, and build a house from the wood you stole off your neighbor's house. Now we can watch them without peeping in the windows. I wanted more basic and immediate instructions, hence the extra laundry detergent and canned goods.
The author mentions the importance of water–which come to think of it, Noah didn't have to worry about–and shows us a picture of his "IBC totes". They are lined up against his house and are the size and equivalent of a municipal water supply. He filled them with nuns' tears and bleach tablets.
I bought four water containers and with two I had already, I now have a total of 35 gallons on hand for emergencies. It won't last more than a week or two, I imagine, but the rest of you can enjoy our share of the wet gene pool we just vacated. I can't go for months without washing my hair, anyway.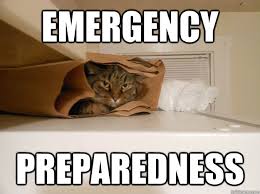 If this emergency happens in the winter, we can melt snow like the Campfire Girls taught me. If it happens in warm weather, we can drink our sweat. The water plan is in place.
Buckets are another of his recommendations, which we had plenty of in Las Vegas, but naturally, you don't cart old buckets along when you move. We still have empty paint buckets here, but you can't use those for water. Oh, no.
There's almost nothing you can use to store water except the Highly Special and Specific AquaPure and Natural and Costs Only a Little Bit More Than Toilet Paper Water Containers from Amazon. The IBC totes cost as much as one arm and one leg.
If I sell my limbs for emergencies, I won't need half as much stuff. I won't even be able to wash my hand. There's an upside to everything, people. That is my philosophy.
When I read his instructions for digging large holes in the backyard to dispose of "waste", a delicate term for not being able to flush our potties, I gave up. I am not doing that. First of all, the dogs have already claimed that territory, and secondly, I'm too tired. If I give up the Beefaroni, I won't have to "go", so that settles THAT.
Other things you should have on hand are plenty of medical supplies, cleaning supplies, matches, tarps–to catch rain water and house unwanted relatives–lanterns, shampoo, razors, etc, etc. Whatever it is you like and use now, you should acquire six months of to keep on hand. If you need exotic prescriptions, a single cup coffee maker, or new clothes every other week, you are a goner.
After six months, if the country is still without power, supplies, or readily available food, we may as well hang it up. If I can't take a hot shower by then, or get online orders delivered, my whining alone will probably power a television and microwave. There just won't be anything to watch or cook.
As for the aforementioned lack of power and being off grid, I figure static electricity will carry the day.
I will command the household to scuff across the rugs for six hours every day. Not only will this distract us from our current woes and keep us in shape, but the sparks when we touch a doorknob will light the house. I can charge my Kindle and read about how this emergency preparedness guy prepares HIS Beefaroni.
Please follow and like us: