Mission Impossible: My Smart Phone
I've got a new mission impossible: My smart phone. Rather, figuring out how to work it.
Last year sometime- or maybe it was three years ago, I don't know- my BFF told me about some app she'd installed on her phone and how it was changing her life.
It was one that mapped her sleep, if I recall. She has to put her phone on her pillow, hope that she doesn't knock it to the floor in her sleep, and then she checks it when she wakes up in the morning so she can wonder what in hell she does at night.
Of what use is information about our sleep patterns AFTER we wake up?
"I see I had to get up three times to pee last night. Interesting. And this spike in the graph shows a possible break in. I'm glad they didn't wake me."

Of what use is the information WHILE you're sleeping? This has had the effect of reminding me of Santa Claus, who sees us while we're sleeping and knows when we're awake. We could just ask him how we slept.
Why didn't he call the cops if there was a burglar and tell them someone was waking us up?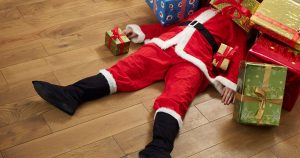 Keeping an eye on Santa would be the only reason I can think of to have this sleeping app. At least I'd know someone was keeping an eye on me. Let's develop a Santa app.
I told my friend I didn't have any apps, because I use a flip phone. A phlip phone can phit in your pocket. You can drop it, and there's a good chance it won't be destroyed. It might come apart in four different pieces, but the screen won't shatter, because it's only two inches big. I had no internet on that phone, and basically just used it for the reason God created Phone: To make and receive phone calls.
She told me I had to 'get with the times' or I'd be 'left behind'. Left behind in the RappTure.
I kind of miss my little phone. Another friend told me I belonged in a museum when I told him I had a flip phone, and as chance would have it, I'd just been in a museum the day before! The Lost City museum, full of archeological dig findings. That be me.
Cue the horror movie music and a Creeping Man Sneaking up on someone:

A few days ago, my hubby brought home a Smarty Pants phone for me to use.
I still haven't figured out how to answer it. It says 'Swipe any icon' when it rings. So my hand is flailing at the screen and failing to make contact with whatever genie lives inside this thing, and who designates who I get to talk to.
Swipe an icon? Maybe it means I should steal the Taj Mahal? The Taj would help me answer my phone? Finally, just before the caller hangs up, my phone answers and I get to talk to them.
I watched a Mission Impossible movie right after I got the phone. Tom Cruise answered his phone without a hitch at the end of the movie to get his new assignment.
Right then and there, I gave up my plans to join a clandestine organization. I'd be swiping at my phone in vain, sweat beading my brow, and miss the call for the 'mission'! We would all be toast. Toast!
Last night, I had the chance to make a YouTube video of an epic brawl that would go viral for sure, and make us all rich. But, I couldn't figure out the record option on my phone.
I had called the police on our neighbors- the ones who moved in recently for the express purpose of devaluing the street, according to my Lousy Neighbor and Reduced Home Value app. They have what appears to be a druggie son who regularly throws tantrums outside at the top of his voice, with all the requisite obscenities, and other aberrations of behavior.
I don't understand taking drugs that make you mad. I might consider taking ones that make me happy, but even that has its downside. Get too happy and you forget to brush your teeth.
At any rate, the men in tan showed up fairly soon. This is not always the case, but perhaps I'm getting the volume discount.
They questioned the young man who was still outside carrying on and who'd made the moronic decision to cross the street to our house and get in my hubby's face because my hubby requested he stop his yelling. Drug Boy began to berate the police, who predictably enough, took exception to that, and cuffed him. His cohorts stood around berating them and us, too.
Because asking the police to intervene when you're threatened, and your peace is egregiously destroyed, makes you a bad guy.
Listening to the whole thing and watching three cop cars and six cops try to herd morons in the pitch dark was fascinating. Drug Boy was crying and banging his head on the hood of the police car, screaming so loud he lost his voice, which was nice. His friends sounded like protestors at a sit-in: "You didn't read him his rights! Fuck the police!"
Strangely enough, Drug Boy kept saying this to us and anyone else who bothered to listen: "It's only ten o'clock on a Wednesday! I have a right to do what I want!"
So guess what my new meme is?
Morons are comforting in that they always shoot themselves in the foot. You can count on it. There's comfort in that. An intelligent person might surprise you, but a moron can be counted upon to be a moron, first, last, and always.
But, I can't show it to you on my smart phone.
Please follow and like us: