Remains To Be Seen: What To Do With Your Remains
What to do with your remains after you're dead? What to do, what to do. Well, of course, after you're dead, you really don't have to worry about it so much, but some people do think about this issue before they've departed this earthly plane.
The only other option to not worrying about it is never to die. I'm considering that one. Just haven't worked out the logistics, yet.
I started this post a few months ago when a friend told me she'd gone to the Neptune Society for a sales talk on cremation. To this news I hooted and asked what she was doing with her spare time. She did not find this as amusing as I did. Then I considered doing the same thing in the interests of research for this blog post.
(I will have to edit that post in the link above to include research into what to do with your remains after you retire. Funny I didn't think of it at the time I wrote it.)
Regardless, a sales talk on cremation has got to be comedy gold. I will look into it. That is my pledge to you.
Here's a nice start: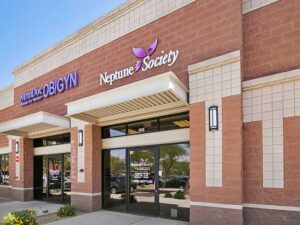 Shortly after that conversation, on June 24th, suddenly and unexpectedly in the morning, shortly after awakening, Don collapsed and died. After almost two months, it is still difficult to write. It feels like it just happened yesterday, no matter how much time has elapsed. We had been speaking to each other from different rooms and he sounded cheerful and fine. Minutes later, I heard a crash, saw his feet and grabbed for my phone. I couldn't remember how to dial it for a few seconds.
Within two or three minutes, a fireman ran into the house. The fire department is just a block away. Soon after, the paramedics arrived and worked on him for at least 30 minutes. There was no response at all. He was gone so fast, I still have trouble accepting it. I may always and forever have trouble accepting it.
He barely had time to enjoy living in the country in the "new" house, which is 112 years old. The day before he'd been out in the back trying to reunite two baby deer with their mother. She'd been trying to get a few minutes of peace in the field behind us–probably trying to pee alone–away from the kids and separated by a fence. He'd complained of a pain in his side and his jaw the night before, but not in a way that said he should go to the ER that minute. I told him we should go the next day so they could check him out and see if it was angina.
There are so many things to beat myself up about, I have trouble choosing which one to torture myself with from one minute to the next. Just realizing he should have gone for a check up at some point between November and June is enough. He had so many friends who died too young, one who had retired only a few years before he died. I had always thought that was so sad– to work so hard and then not have much time to enjoy it. Which is just what happened with Don, who had retired in 2019.
The universe sucks.
Regardless, there have been moments of levity. When I went to the mortuary, for instance. Mortuaries have their own catalogs. Realistically, this is perfectly reasonable, but it's something most of us never think about. In the mortuary catalog I saw, there was an urn shaped like a motorcycle. That seemed reasonable, too. Might as well make your home in the thing that probably killed you. In fact, Don used to call them Murdercycles.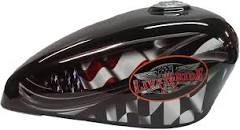 My friend David Williams, of the many guest posts here, wondered if they offered a Chinese food take out box urn. That also seems reasonable, since Chinese food, compounded weekly over 50 years, might be a contributing factor in someone's demise. Here's a link to what this website claims are the "most popular urns." Popular for whom? Hopefully not some hapless consumer whose friends and family are dropping like flies.
It feels very strange to be without Don. For one thing, there is no one to worry about me if I should come in late, or not at all. I'm spending this month in Vegas house sitting for a friend, so I come and go as I please, which means doing what I was doing before, only sometimes getting home later.
Brandon is at home, as are all the dogs, so I take comfort in that, although Honey and Pretty Girl have discovered a loophole in the fence and have taken to disappearing. Someone took a picture of them on Friday and posted it to Facebook. They were investigating the sidewalk in front of the post office. I feel so sorry for the dogs; they can't understand why someone just disappears from their lives.
Pretty Girl came home almost right away, no doubt because it was too damn hot out there, but Honey had been picked up and taken to Animal Control, which wouldn't open again until Monday. One woman thought they were mini cows walking by. When your dogs resemble mini cows, it's time to put them on a diet, or start selling milk. And then fix the fence.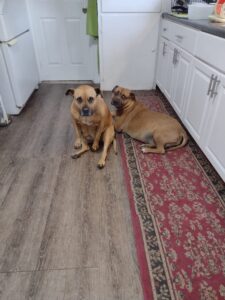 Our handyman helped secure the fence, and other than a hot walk to the vet for an updated rabies shot and a fee paid to Animal Control–like when they tow your car and then charge you to get it back–it all worked out and so far everything is back to normal at home.
A week or two after Don died, Brandon and I were driving home on the 395 on a moonlit night, very late. The roads were almost completely empty out of Reno heading north. The moon was at 3/4 and it was clear. You know what they say, a hunter's moon benefits both hunter and the hunted.
Brandon was reading, and I was thinking about Don. Tears were streaming down my face. Suddenly, out from the side of the road, a rabbit jumped to its death under my wheels. There was no way to avoid it, but it was a horrible sound. I started crying even harder. I had finally calmed down a little when I saw something in the road ahead. I could see it was an animal, a young coyote making a meal of someone else's road kill. I slowed way down and veered into the oncoming lane to avoid him. Instead, he turned to run and ran in front of me and under the wheels.
By now, I was hysterical. I felt like the Angel of Death slaughtering the innocent all the way home. Yes, indeed, that was just what I needed at that very moment. But to inject a note of optimism, I did hear something I needed to hear on the radio. I couldn't use the cassette player–yes, I have an old car–because a cassette is stuck in it.
The radio still works, but there isn't any reception except for a few AM stations. That night, I happened to pick up a Sunday night sermon from a well known pastor. He talked about there being a time for everything. That happens to be one of my favorite biblical passages. It coming when it did was very comforting.
And I'm thankful to report that while another bunny ran across the road from the left side, he did not have suicidal tendencies. Everyone made it home in one piece after that.
Please follow and like us: