Etsy, Etsy, Etsy: C'estGigi, A Woman's Place
Etsy is a site for anything you could need. Almost.
Etsy began as a vintage site, clothing, jewelry, items from estate sales, and great handmade crafts.
I have my Showgirl Clay in my shop, C'estGigi: A Woman's Place, and will be adding more items.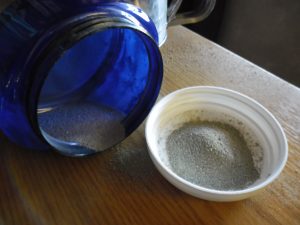 Showgirl Clay comes straight from the spot the Las Vegas showgirls of the 1960s got it. They'd hop in their little sports cars, and tool out to Tecopah, with the top down, to gather facial mask clay right from the volcanic source.
Tecopah is about an hour and a half out of Las Vegas, up in the hills where there are natural hot springs.
On the side of the road lies the green volcanic clay they gathered and brought home to use as a mask and sprinkle in their baths.
I use this clay myself. Before putting it into one of the deep blue reusable containers, I sift and sift it through a flour sifter, and make the clay silky smooth. Otherwise, it comes just as you see it in the picture. A light green in color, and with amazing abilities to clean the pores, and make your skin feel smooth and tight.
It has a pleasant, earthy smell. I wash it off in the sink or let it drain from the tub, and have not had a problem. It's like washing earth off your hands after gardening. It doesn't stain.
You can see by the lovely picture I took of myself and included in the shop pictures that I like it, and use it.
Please follow and like us: